OUTBOUND
Share Operational & Safety Intelligence
It's never been easier to share time-sensitive information with anyone, anywhere in your organization.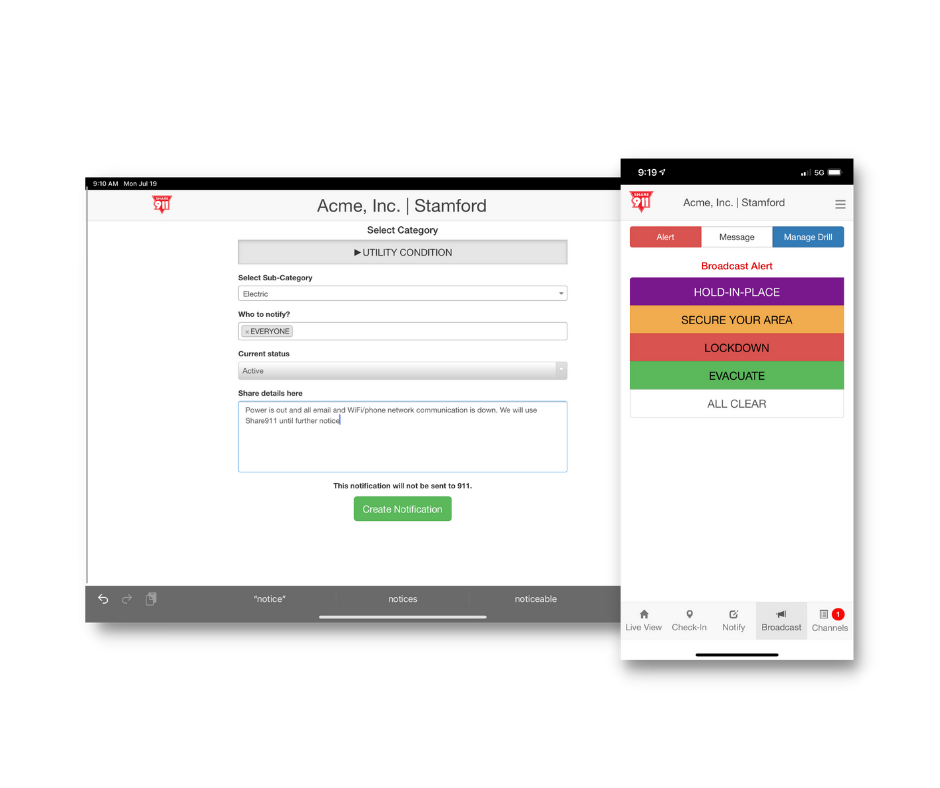 LET PEOPLE KNOW WHAT'S HAPPENING, AS IT'S HAPPENING
Share time-sensitive information, in real-time, from a single-source-of-truth
Share reports of law enforcement, fire/rescue, and EMS activity happening at or near a facility.
Notify people of impending weather conditions that may disrupt operations or present a safety risk.
When the power goes out and communication platforms are down, send messages and updates.
Poll people to determine who is healthy enough to enter your facility and who shouldn't be permitted in.
Share location-specific reports of dangerous and violent persons at or near a facility.
Direct people to evacuate due to fire, smoke, gas, or other hazardous condition.
Share the location of a medical emergency to make help happen faster.
Poll people to see who is safe or unaccounted for during a critical event of any kind.
TESTIMONIAL
Hear from an Alabama School Superintendent about how Share911 helps her know when something is happening at or near one of her schools.
"With Share911, I can be anywhere and know about anything happening in our district as it's happening. Prior to Share911, if someone didn't call or text me, I was often left out of the loop."
"Prior to Share911, when we had a lockdown, I had no way to know which employees were safe, or where injured or missing persons were. With Share911, I see all of that live, right on my phone."